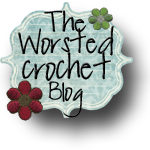 My friend Heidi and I have been working really hard to get the word out about our crochet blog:
The Worsted Crochet Blog
, and would really love some support. It isn't easy to take time out and share the projects we are working on, give out some free tips, write up and post patterns, etc.
We have all our fingers and toes crossed that we can reach our goal of 50 followers by the end of the year... so far we aren't even close.
When we get to 50 followers we are going to have a mega giveaway, including, but not limited to, one of my "Big Blue" Mascot hats (size of choice) and one of my sock monkey hats. I MAY even consider giving away a pattern or two -- depending on how well we are doing. We will probably have a flower hat up for grabs, and perhaps a headband or two.
And if we do REALLY well... I may be persuaded to giveaway one of my owls.... but we will see...
So spread the word and help us make our goal!
Our site:
http://theworstedcrochetblog.blogspot.com
Facebook Page:
https://www.facebook.com/pages/The-Worsted-Crochet-Blog/267320536642306
Twitter:
https://twitter.com/#!/WorstedCrochet
Thanks a bunch!!
-Cat